The family lived in a house at 6 Stretton Street, Fannie Bay until Cyclone Tracy hit Darwin in 1974. They were then evacuated to Adelaide, and on returning they moved out to Cameron Crescent, Jingili in the northern suburbs.
The children grew up with a love of sports. All enjoyed playing hockey and the boys played Aussie Rules with The Buffaloes - later to become Darwin Football Club.

Throughout all the years they were constantly playing music and singing. Then one day in the early eighties, Mum Mills asked June to take her to the Country and Western Music Association's Jam night over at the Alawa Community Hall.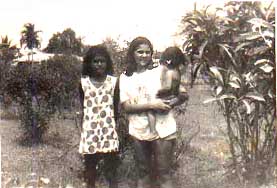 They enjoyed themselves so much that they decided to return the following week, with Allyson, to sing a few songs. Each successive week another of the Mills girls would come, until eventually they were all up there singing. After they finally got all the girls together, the association was approached by a promotion company for a band to be a support act for a concert with Bushwackers and Bullamakanka.
Much to their surprise the Mills sisters were recommended. This would lead on to many such support acts, including, Charlie Pride, Harry Secombe, Tina Turner and many others. The Mills Sisters became famous quite quickly and were asked to sing everywhere. The four sisters were joined by another girl, Robyn Forscutt, who grew up with them in Darwin. Both her and the Mills parents had grown up together as well.
All had a profound love of music and particularly country music, and would sing in four part harmony. Allyson also developed into a gifted writer and an accomplished solo performer.
The house was always full of people and there were sing-songs all the time. The Mills children grew up surrounded with music and it wasn't long before they started to pick up the various musical instruments in the home - guitar, ukelele, mandolin, piano accordion, organ - and began accompanying themselves on various instruments.