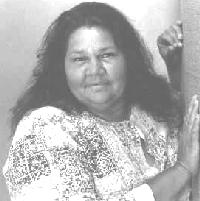 "G'day! I'm June Mills, also known as Gunluckii Nimul, and I am an indigenous artist from Darwin in the Northern Territory. A traditional owner of the land Darwin is built on - which is Larrakia country - my art reflects the environment I live in, the animals and landscape. screen-printing is the art form I enjoy most of all because of the ability to print my favourite images repeatedly, and I can create many beautiful items from T-shirts to soft furnishings. My passion is to hand-paint fabrics and I love to make huge colourful banners and original "one of a kind" personalised pieces".
Politically motivated, June has created banners for NAIDOC Week, May Day March, Greens Party Campaigns (she has been a candidate for election) and for many other environmental and Aboriginal issues.

Her first showing was in July 1996, when five silkscreen prints were hung alongside six other Darwin artists at the Darwin Entertainment Centre. Entitled "Damara" (Expressions of Darwin Harbour) the works gave vent to the artists' feeling about a body of water - three times the size of Sydney Harbour - its crocodiles, mangroves, dolphins, fish and driftwood.
February 1999 sees June with a solo exhibition in Melbourne, by special invitation of the Brunswick Festival. There will be a civic reception for June, where she will be greeted by representatives of the local indigenous people and welcomed by the Governor of Victoria.