DJULPA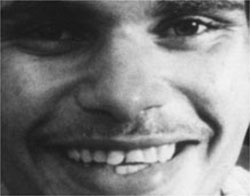 Whilst growing up in Maningrida, Djulpa heard a great deal of music.
The Sunrize Band had begun around the time he was born, and Djulpa's brothers had formed Letterstick during his early teens. So Djulpa had a
surfeit of role models in both songwriters and guitarists.
Writing in English, as well as Brarra - his traditional language, Djulpa's songs reflect the beauty and mystery of his land, people and culture. In "Mimi Man" the strong spiritual side of the Saltwater people is described. Djulpa's life has alternated between a tribal existence on the Arnhem Land coast and a suburban struggle in the city of Darwin. His angrier songs (often co-written with Noeletta) are a cry of protest for all Aboriginal people who have to cope with similar situations.


back