Coloured Stones, Kooniba Rock
(from Stiletto Magazine, May 1985)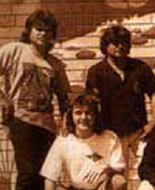 The chipped and battered 44 gallon drums are glowing warmly in their red hearts, surrounded by a cluster of hands turned palm down and a congregation of shuffling, happy faced bods welcoming the night with a sigh of relief. Friday night in town, double-time-off tomorrow, the hassle of the past week drops into oblivion.
Coloured Stone, an aboriginal desert band, gather on stage to the background wail of Bob Marley's "One Love" - a tune that is almost derigeur at these meetings. As I watch them tune up, 'white' (Carlton Draught) can firmly in hand, a long black arm stretches out and wraps its sinews around my neck - an enthusiastically friendly but surprising gesture. The flash of contact between white and black skin merges into solidarity with the music. We stare at each other, a bond of understanding the question, if not the answer. He lets go softly, disappears into the milling throng. It is a strange moment, this collision of communication and distance.
The band commences, a rumble and crack firing the small stacks into life. A mixture of west coast sounds, reggae and pop rings out in the cool open air and the dust churns as feet begin the Alice Springs Stomp, a do-what-you-want-to-do dance with a characteristic skank. The neighbors ain't gonna get no rest tonight.
Finding original rock-n-roll in the bush is like finding a punk band in Dubbo - it happens, but don't count on it. Anyone with the barest hint of r'n'r sensibilities is usually off to the city in a blaze of dust the moment they acquire their license to drive. The uniqueness of this new breed of desert musician (of which Coloured Stones and Warumpi are the most famous) is that they play fast, loud and often raucous music in a landscape otherwise dominated by the perennial C&W tunes and easy listening folk, not so much in the fact that they are black.
With the assistance of the Aboriginal Arts Board, the Central Australian Aboriginal Media Association (CAAMA) and a small band of dedicated helpers, Coloured Stone have overcome the stifling inertia of the outback r'n'r circuit to produce Kooniba Rock, a full-length album boasting twelve of their self-penned tunes, including the 'hit' singles 'Black Boy' and 'Kapi Pulka'.
Recorded in an overnight session at Sydney's Glebe Studios, halfway through a grinding eight week tour, the quality is less than one would have hoped for, losing much of the Stone's full-bodied omph in the rush against time and money, though leaving plenty of room for adjectives like 'raw', 'refreshingly unpretentious' and 'capturing the true spirit of rock 'n roll'.
Standout tracks are, of course 'Black Boy' & 'Kapi Pulka', 'When Am I Gonna Learn', 'Boogie Man' and the C&W flavored 'My Heart'. Coloured Stone definitely could do better with more time and money but 'Kooniba Rock' is at least out and about and ain't gonna do their reputation any harm at all. And they did beat Warumpi to LP status - give it a listen, you might be pleasantly surprised.
pryan