Coloured Stone
(RAM Magazine, January 1985)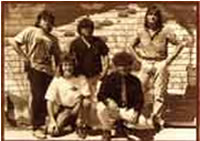 Traveling through a vast Central Australian landscape that acknowledges cities as dirty specks on chipped road signs, Coloured Stone have learnt a thing or two in the past six years. But being black in a white Australia has its drawbacks.
"It's a hard life, I'll tell you!" says drummer, singer and mentor of the band, Buna Lawrie. "We try to get gigs in hotels, here and everywhere, everywhere you go. We'll take a cassette, they have one look at you, you've got a bit of color in you, and they say 'Come back later' or 'I'll ring you' or 'We have somebody else booked'".
"Maybe because it might attract too many aboriginal people to come and then cause trouble, smash the pub up. Or they're scared that if too many aboriginal people come, then the normal local customers - white people - might come there and they see black people and it might turn them off. I don't know..."
Coloured Stone are lighter than most aboriginals up here. Not only in skin tone, but in heart as well. Two sets of brothers - Buna and Bunny Lawrie, Neil Coaby on rhythm and Mackie Coaby on bass - are all from the mission settlement at Koonibe in SA. Warumpi might be tribal, Coloured Stone are family. Though Buna admits he is aiming for the white market.
"But I just want to show Aboriginal people that we can do it too. I don't want to be a millionaire - too many people coming up with their hands out saying 'give us a loan'!"
"We're just after enough to pay our bills, make an album and try and be the first aboriginal to make a No.1 hit. And a gold record ! I'd be the happiest man in the world."
The Black Boy/Kapi Pulka (Imparja label) single has generated the band a certain measure of fame, and armed with the resultant confidence, Coloured Stone are planning to release another single - 'When you Gonna Learn'/'Dancing in the Moonlight'.
"Now I see Black Boy gone pretty well, I don't see any reason why we shouldn't follow up with it", says Buna "We're starting to feel, now that it is coming easier, we're really glad this is happening to us. Before we were out in the ocean, rowing this boat all together, trying to find land".
"It's starting to change a bit, we're starting to get a bit of help now. In the last six years, we've really struggled, we've crawled and walked and pushed cars."
You've probably heard Black Boy on the radio. Maybe you're impressed, maybe you're not, but this music means something up here. It is regularly played four or five times during the course of a live gig, it's played to death on CAAMA (the local black radio station) and it is No. 1 in - of all places - Fiji !.
The song's catchline 'Black boy, black boy, the color of your skin is your pride and joy', no matter how passe in other cultures, is revolutionary up here. The Warumpi, friends of the band and stars in their own right, sing with pride, Colored Stones sing about pride.
"Most of the songs are from our experience and mainly from us. But also from everybody else who has been through that. They hear a song that they know, they must have lived through that experience too".
At an almost all black gig in Alice Springs, dancing trebled whenever they played the song. This is aboriginal rock politics, which of course doesn't mean it has to be credible on any inner-city level. To me it is just another great song - but then, I `m not black....
pryan